We recruit the best talent for engineering jobs, technical sales jobs, IT Jobs and scientific jobs
We are not in the business of just finding you a job. We are interested in finding the perfect fit for you; a role that you will love and flourish in.  Our candidate charter is our promise and our commitment to you: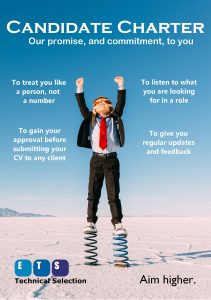 We've compiled a number of short videos for you to help you with your job hunting: everything from preparing for an interview to developing your own personal brand. Visit our resources for candidates page to find out more.
You may also be wondering if freelance or permanent is the best thing for you – if so our short video outlines the pros and cons of both.
And don't take our word for why we're a different engineering recruitment agency – check out our candidate testimonials.
We look forward to hearing from you.